High Ropes Challenge Course Design & Installation
Advanced Challenge Course Designs * High Ropes Challenge Courses * Low Ropes Challenge Courses * Indoor Challenge Courses

At the Summit we design and install our Advanced Challenge Course Deisgns™, our State of the Art Challenge Course Systems to High Challenge Courses, Low Challenge Courses and Indoor Courses . We have 27 years of experiences in designing and installing ropes challenge courses that rival any in the industry. From the first moment that you discuss your ideas with a member of our design team until years after you have been enjoying your ropes challenge course, we will be with you every step of the way, helping you to maximize the potential of your adventure program. All of our designs meet and often exceed ACCT, PRCA, ANSI and other industry standards. We have an absolutely impeccable safety record which is simply the best in the industry. Please call for details.
Please call or send us an email for our digtital brochure which outlines our course design elements withn descriptions, a discussion of tree vs.pole courses and more!!!

Our Infamous Triophenia Element *See description below
Our High Ropes Course Element List
Burma Bridge- Beginning
Two Line Bridge- Intermediate
Pirates Crossing- Advanced
Hour Glass- Advanced
Multi-vine- Intermediate
Zulu Ladder- Advanced Pairs
Pamper Plank or Pole- Advanced
Horizontal Ladder-Intermediate
Zip Line- Intermediate to Advanced
Double Zip- Advanced Pairs
Vertical Playpen- Intermediate Pairs
Centipede- Advanced
Ship Mast-Intermediate
Catwalk- Advanced
Note*- The Vertical Playpen, Centipede and Ship Mast can be combined
together to make a virtual hanging playground.
Rappel Platform- Advanced
Incline Log - Advanced
Zulu Ladder-Advanced Pairs
Rope Ladder- Intermediate
High Platforms-Advanced
High Woozy-Advanced Pairs
Fire Cracker Ladder- Advanced
High Boson's Chairs-Intermediate
Vertical Playpen-Intermediate Pairs
Giant's Swing-Intermediate to
Advanced Flying Squirrel- Intermediate Group
High Nitro- Advanced
The Ladder- Advanced Group*
Horizontal Ladder- Intermediate
The Helix-Advanced Group*
Eartquake Bridge-Intermediate
Triophenia (Duophenia or Quadrophenia)*
Tired Two Line (Charlie Chaplin)-Advanced
Space Walk- Advanced
Descriptions of some Advanced High Elements
Triophenia (Duophenia or Quadrophenia)- 2-4 participants Advanced
"The Who?" These elements can be done in pairs, tri's or quads. Participants have to help each other onto a small platform reminiscent of the low element classic "All Aboard". Once they get everyone on board they have to leap off the platform in tandem to tag a tether ball hanging in space. A great challenge that brings a sense of team to high elements.
The Helix- Advanced Group This element brings a new dimension to the team challenge for high ropes. Participants walk across beams suspended from a cable. The only thing holding them the beams steady- the other teammates down below. This element requires a team effort.

"The Ladder"- Advanced Group
This one is one of our newest additions. A good group effort as the group has to hold a ladder straight up and steady for the climber who, after climbing to the top and standing on top has to ring a bell that is barely within arms reach.



Our customer service and quality craftsmanship are unsurpassed:

"I researched several other companies and found
"The Summit" to be superior in knowledge, ability, committment and customer service."
Al DeVicaris, Director, Adventureland Day Camp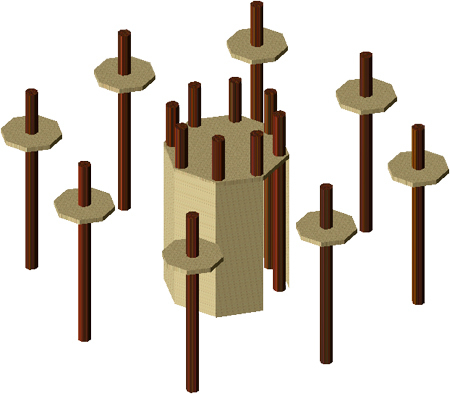 Advanced Challenge Course Designs™
---